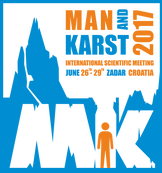 Karst is a unique environment due to its distinctive morphology, hydrology and biota. Unique karst landscapes are formed by karstification process and are often dominated by underground drainage networks. These diverse, fascinating and yet problematic terrains are vulnerable to environmental impacts. Living in karst areas is sometimes challenging, but at the same time many artifacts documenting early human development have been preserved in karst areas. Humans have been living on karst and with karst for millennia, and therefore it is important to explore, understand and protect it.
The aim of this meeting is to gather scientists dealing with wide range of topics related to karst. Meeting will be organized as series of sessions with keynote lectures and selected lectures within each session. Participants are invited to present their contributions in oral or poster form. Lectures will be followed by field excursions (see preliminary programme).
The official language of the event is English.
Abstracts must be submitted in English to manandkarst2017@gmail.com by April 30th, 2017.
The participant's preferred mode of presentation (i.e. poster/oral) will be considered by the organizer.
Participants have the possibility to publish their research in Geoadria journal.
The Second Circular can be downloaded HERE.
Organiser:
Dr. Franje Tuđmana 24 i
23000 Zadar, Croatia
T: +385 23 345 000
Contact: