The University is spread on few locations in the city. The conference venue place will be set around the area of Old campus building (Obala Petra Krešimira IV.).
We have prepared a map showing important locations on the area of Peninsula (old part of the city of Zadar). The map is available at the bottom of this announcement.
Registration desk – second floor of Old campus building (Obala Petra Krešimira IV)
Opening reception – Museum of Ancient Glass Zadar ((Poljana Zemaljskog odbora 1)
Paper presentations – rooms 121, 124, 223 (second floor) and 131, 136, 137    third floor). of the Old campus building
Tea and coffee breaks – cooridor on the second floor of the Old Campus building
Wi-fi internet is avialable in all rooms at the University. All information regarding the wi-fi are available on the Reception desk.
Printing – If you need to print your paper or and other file there is a posibility to print in the University copy center located next to the "Barbakan" restaurant.
"Barbakan" Restaurant
For lunch we suggest the "Barbakan" restaurant which is located close to the conference venue (location on the map).
The restaurant can provide lunch menues for aprox. 7 euros (it includes soup, main dish and desert). The tickets for the lunch will be on the Registration desk.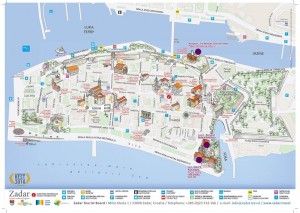 For the complete map click here.